12 of the most beautiful golf courses in Salzburg
Golf
No less than 12 of the most beautiful golf courses in Salzburg Province are in the Alpina's vicinity. Enjoy a golf holiday on lush greens surrounded by rolling hills, towering peaks or the romantic lakes of the Lake District. Take advantage of special guest rates on most Salzburg courses and speak to us about tee times and further information. First and foremost, however, we would like to recommend our OPEN Golf St. Johann Alpendorf. Alpina guests play for free any time - weather permitting - without limit.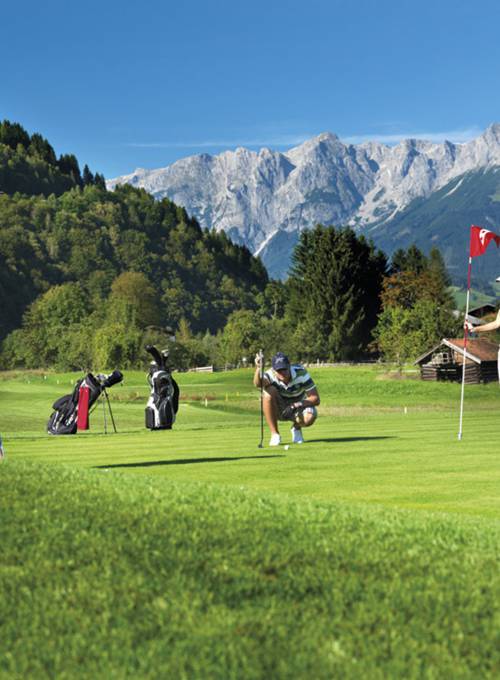 Open Golf St. Johann- Alpendorf
We are one of the founding member hotels!
Play the new Sankt Johann-Alpendorf golf course and benefit not only from its beautiful location with views of the Tennengebirge mountain range and the Heukareck peak but also from:
unlimited FREE golf on the Orange and Blue Course
FREE use of the driving range
Discounted trial course
Golf Academy
Tee time reservations at the hotel reception
Situated in a beautiful part of the valley between St.Johann and Bischofshofen directly on the Salzach walking path, OPEN Golf has a par 34 course (tournament course), a course for amateurs without a golfing license (academy course) as well as a practice course with driving range, a chipping area and a putting area – something for everyone in fact, from children to senior citizens, from beginners to professionals, from locals to guests.
All further information can be found at www.golfsanktjohann.at.
We are delighted to be a founding member of the new GC Sankt Johann-Alpendorf and to be able to act as your golf specialist in the region.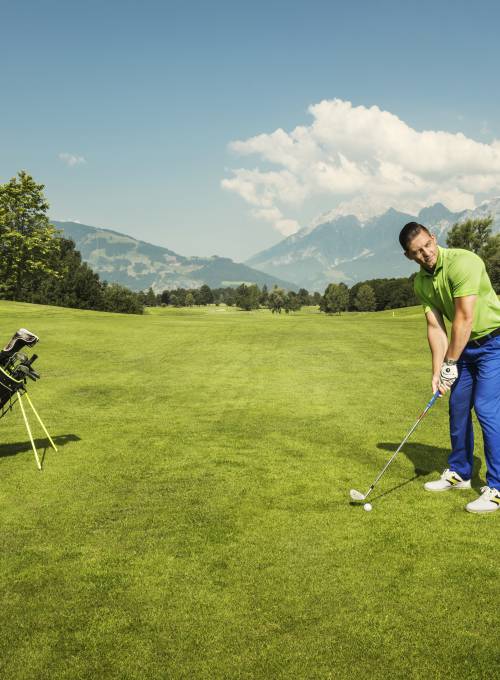 Goldegg Golf club
Alpina is a member hotel!
The golf course in Goldegg is a beautiful, classic alpine courses and is known as the jewel of the Salzburg golf region. The course is located 1 km outside the village of Goldegg, on a sunny plateau with stunning views to the surrounding mountains - only about 10 minutes by car from the Alpina.
Alpina guests receive a discount on green fees:

18-holes € 50
  9-holes € 35

Please let us know if you would like information on golf lessons or if we can help to arrange a tee time.
Course data GC Goldegg
18 holes
par 72
Slope 126 (men) 126 (women)
CR value 71 ,5 (men) 74,4 (women)
To get to the scorecard view click here.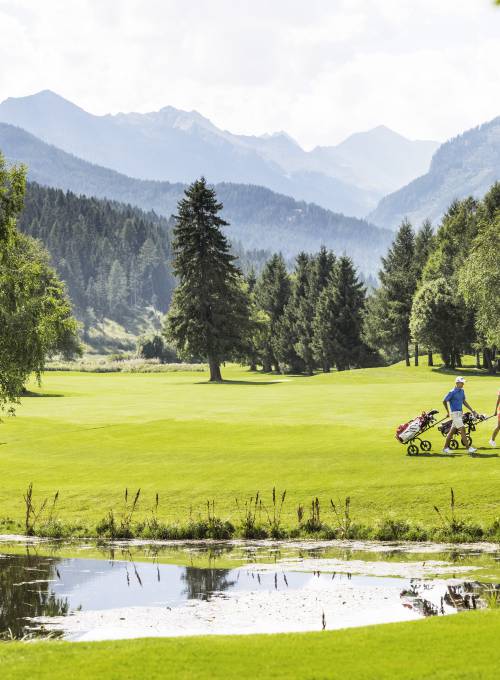 Golf Alpin Card
Golfspinne
Greenfee GC Goldegg: 20 % Ermäßigung
5er Alpin card: € 325,-
4er Alpin card exclusiv: € 260,-
3er Alpin card exclusiv: € 199,-
The Golf Alpin Ticket is included in some of our golf packages! See the following list for qualified partners:
Golfclub Goldegg, Tel.: + 43 (0) 6415 85850
Golfclub Bad Gastein, Tel.: + 43 (0) 6434 2775
Golfclub Radstadt, Tel.: + 43 (0) 6452 5111
Europa Sportregion Zell am See - Kaprun, Tel.: + 43 (0) 6542 56161
Golfclub Urslautal, Saalfelden-Maria Alm, Tel.: + 43 (0) 6584 2000
Golfclub Schladming (gegen Aufpreis), Tel.: + 43 (0)3686 26300
Golfclub Lungau, St. Michael, Tel.: + 43 (0) 6477 7448
Golfclub Mittersill - Stuhlfelden, Tel.: + 43 (0) 6562 5700
Golfclub Salzburg - Gut Brandlhof, Saalfelden, Tel.: + 43 (0) 6582 7800-555
Golfclub Salzburg - Championcourse Eugendorf, Tel.: +43 (0) 6225 70000
Golf und Countryclub Salzburg Klessheim, Tel.: +43 (0) 662 850851
Golfclub Mondsee, Tel.: +43 (0) 6263 3835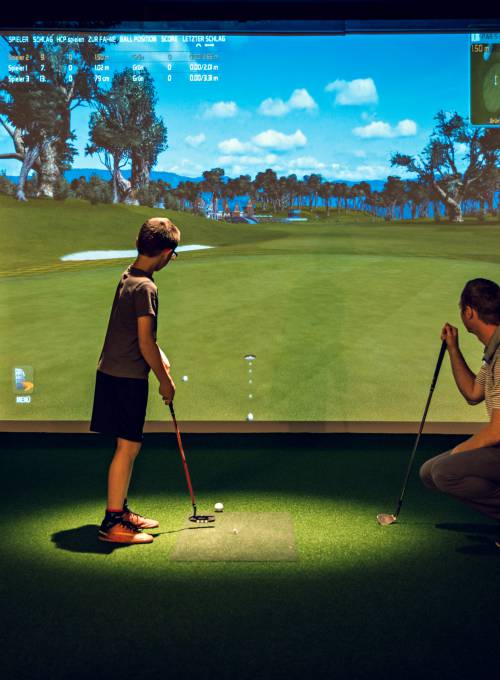 Indoor golf
Play the most beautiful courses in the world on our new golf simulator ISS Ultimo XL, one of the most modern indoor golf facilities in Europe: driving range training, nearest-to-the-pin, longest drive, club test...
With the Alpina golf simulator you can practice golf anytime and in any weather. Take advantage of:
the ideal tee height for every club
comfortable setup (less bending down)
increase in ability and muscle memory
Prevent your fitness efforts from becoming your handicap by establishing a golf-specific training program. Contact our sports coach for advice and support and let him help you establish an advanced home training regimen. We encourage you to take advantage of professional training with our golf pro: regular free trial golf lessons as well as training sessions for beginners, advanced, adults and children - with or without video analysis - are available. Rental clubs are included in the lessons.