ALPINA Family, Spa & Sporthotel ****SUP
Full board deluxe plus+
Enjoy daily culinary highlights in our panorama restaurant, Café-BistrO pizzeria with a wonderful sun terrace or in the rustic wine cellar. In the bar & lounge with open fireplace and panorama terrace you can enjoy the end of the day in a relaxed atmosphere.
With Alpina's Full Board Deluxe Plus+ you can expect
Breakfast
...a breakfast gourmet buffet from 07:30 am to 10:30 am:
Begin your day with a gourmet breakfast buffet that will satisfy your every wish. Live cooking, a fruit- and vegetable-juice-machine, freshly baked waffles and pancakes, Prosecco and a big choice of seasonal fruits are part of the daily breakfast offer with regional bio-products and a variety of vegan alternatives. A HIPP baby breakfast corner is available for our youngest guests.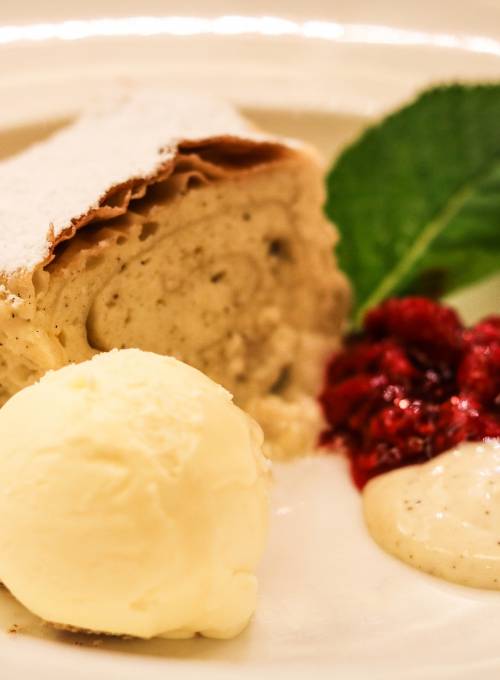 Lunch (only in summer)
...an afternoon snack from 12:30 pm to 4:00 pm
You will start the day feeling invigorated! During the day we spoil you with a lunch buffet with soup and 2 main courses to choose from. In addition, there are crisp salads, sweet desserts, coffee and homemade pastries, fresh fruit, an exquisite cheese selection, cold plates, non-alcoholic drinks from the juice fountain and much more.

In winter we offer a choice of homemade cakes and coffee at the bar.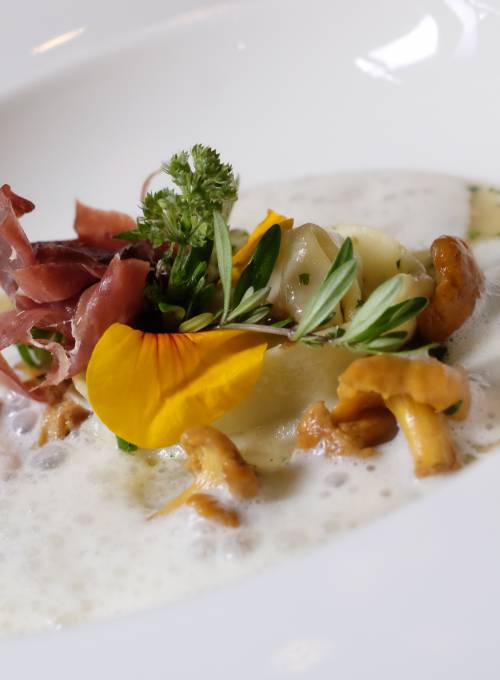 Dinner
...and in the evening from 6:00 pm to 9:00 pm
we serve you a 5-course gourmet menu and à la carte specialities from the Austrian wholefood and natural cuisine. Daily vegetarian and vegan dishes are available as well as individual menus for allergy sufferers, which our chef will be happy to prepare in consultation with you. In summer we have a big barbecue on our pittoresque BistrO-terrace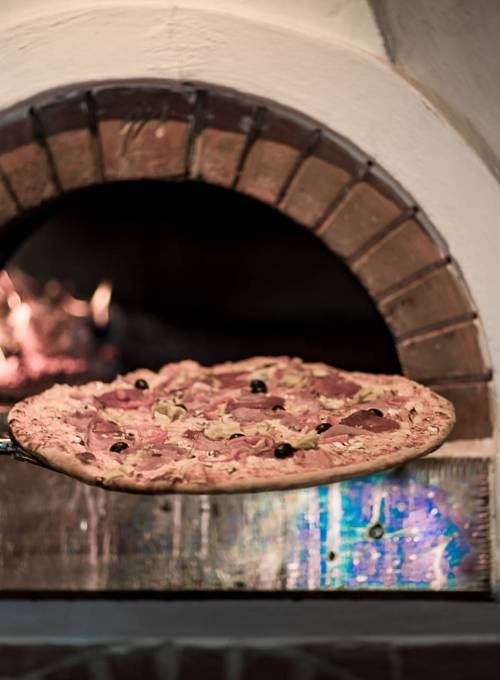 Additionally
We also prepare weekly theme buffets as well as salad, starter and dessert buffets. We treat you to specialties in our show kitchen and wow you with BBQs. Also included are all non-alcoholic soft drinks from the juice fountain in the panorama restaurant and at the lagoon bar in the spa area. At the Lagoon Bar you will also receive a selection of teas and fresh fruit all day long - all inclusive, of course.
In the Kid's Wonderland the kids are given free of charge
all-day refreshments from the juice fountain 
on request, lunch together as part of the childcare service
a smiley snack in the afternoon
as well as a common, supervised dinner
Our dishes are prepared with fresh herbs from our hotel's own herb garden with more than 40 local varieties.