ALPINA Alpendorf****SUP
Holiday Apartments
Full flexibility, plenty of living space and still enjoy Alpina's benefits? Located directly in the hotel, our apartments offer all that and on top you enjoy unlimited access to Alpinas inclusive services such as free use of the spa area as well as daily childcare and much more. Of course, our apartments are cleaned daily during your stay.

All apartments are fully equipped with Flat-TV, telephone, safe, hairdryer, WIFI, bed linens, bath and hand towels, bathrobes, refrigerator, coffee machine, microwave, crockery, etc. An umbrella for rainy days and a backpack for hikes during the summer months are available in every apartment for the duration of your stay.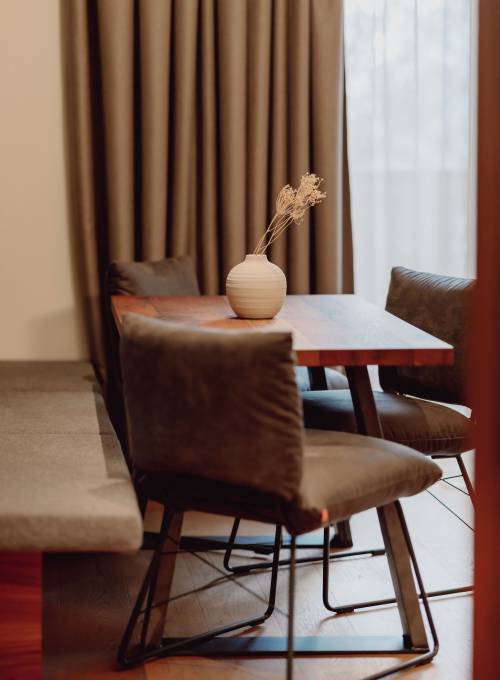 Apartments
Our special Alpina apartment service: The apartment is tidied daily and supplied with fresh towels as required. In the morning you are also free to use our breakfast options.
daily cleaning service of your holiday flat
fresh towles whenever needed
bakery service to your room or breakfast in our restaurant
free parking
On top - Included services
Departure cleaning: The following departure cleaning charges apply (depending on size):
2-room apartments: € 65.00
3-room apartments: € 85.00
Dogs are welcomed in all apartments, for a charge of € 25.00 per day. Dog basket, blanket and drinking bowl are provided for the duration of your stay.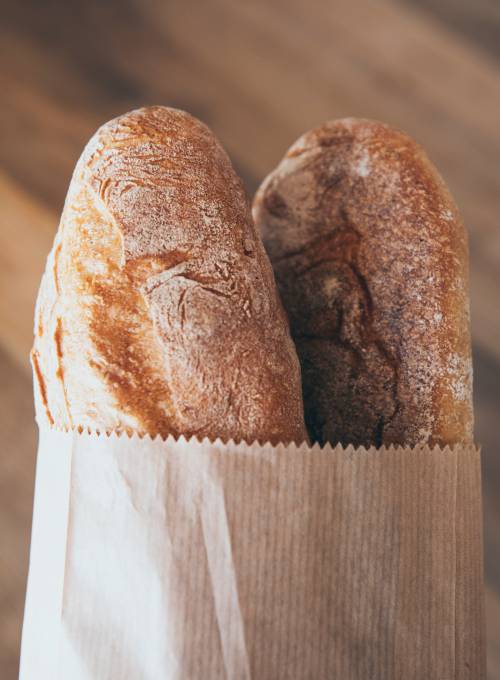 Great flexibility – great choice...  

Bakery room service: Simply order your favourite pastry or bread roll at reception in the evening and it will be brought to your apartment in time for breakfast the next day.
 
Breakfast: Alternatively, enjoy our generous breakfast buffet from 07.30 am to 10.30 am in the panorama restaurant. Adults pay €27.00/day, children from 3 to 12 years € 13.50/day. Please register at reception.



2-room-apartment "Traum"
(2-5 guests), 40 m²
This cozy apartment has a combined living/bedroom with double bed as well as a second separate sleeping room, bathroom with rainshower, seperated WC, kitchenette and dining area, refrigerator, umbrella and a balcony with panoramic view. 
2-room-apartment "Panoramaloft" 
(2-4 guests), 46 m²
Our loft apartment has a living room with kitchenette, dining table and a couch that can be used as a sofa bed and an adjoining balcony with panoramic views over the valley. As well as an additional bedroom with a second balcony. Spacious bathroom with rain shower and a bathtub. 
2-room-apartment "Freiraum"
(4-6 guests), 60m²
This apartment has a spacious combined living and bedroom with a double bed, couch, dining table and a kitchenette. As well as another children's room with bunk bed and single bed. A bathroom with rain shower and bathtub and separate WC. A small balcony completes the flat.  


3-room-apartment "Komfort" 
(4-5 guests), 65 m²
Our new 3-room comfort apartments offer 2 separate bedrooms as well as an additional living room with a cozy sitting area to linger. Bathroom with rainshower and bathtub. A kitchenette, dining table and the inviting terrace or balcony complete this spacious vacation apartment.
3-room-apartment "Traum"
(4-6 guests), 65 m²
In this apartment everything fits - spacious living room with kitchen, dining table and sofa bed offer plenty of space to be together. In addition, a master bedroom and another bedroom with double bed and single bed. A wonderful balcony with panoramic view makes this apartment perfect. 
3-room-apartment "Glück"
new from summer 2023
(4-6 guests), 105 m²
Our largest apartment consists of a spacious living room with kitchen, sofa corner and dining table as well as 2 separate bedrooms, one of them with walk-in closet and sauna.  In addition, 2 bathrooms - one with rain shower and one with bathtub, 2 separate WCs and a spacious balcony with a magnificent mountain view leave nothing to be desired.