ALPINA Alpendorf ****SUP
Family holiday in Austria
As a family hotel, it is important to us that all the members of your family enjoy their Alpina holiday. "A day of activities for the little ones means more time for the grown-ups " - under this motto we offer daily, age-appropriate childcare from 4 weeks of age.

A family holiday in Austria- as individual and varied as we want it to be. Whether summer or winter - there are numerous family highlights to choose from at our family hotel in St. Johann in Salzburg. Only a few steps away from the Alpina is the gondola station, which in summer takes us to the top of the Geisterberg in no time at all. In winter, the location directly at the slope guarantees skiing fun from A-Z!


Family-friendly hotel with childcare in Austria
For us, time for the family means an offer that allows every member of the family to enjoy the holiday to the fullest.

Our family hotel in St. Johann in Salzburg therefore offers age-appropriate and professional childcare & baby care from the 4th week of life. Professionally trained supervisors take loving care of your offspring in the stork's nest and take the kids on discovery tours during theme days; they help kids conjure up their own creative specialties in the bakery or watch them as they craft, build, and romp. Plenty of variety as a hotel with childcare in Austria:
    Children's ski school at the hotel
    Swimming lessons
    Stork's Nest for the very youngest guests (0-2 years) / daily supervision
    KidsClub with age-appropriate, daily changing programme
    Teenie activity plan
    Table football and table tennis tournaments
    Handicraft and painting workshop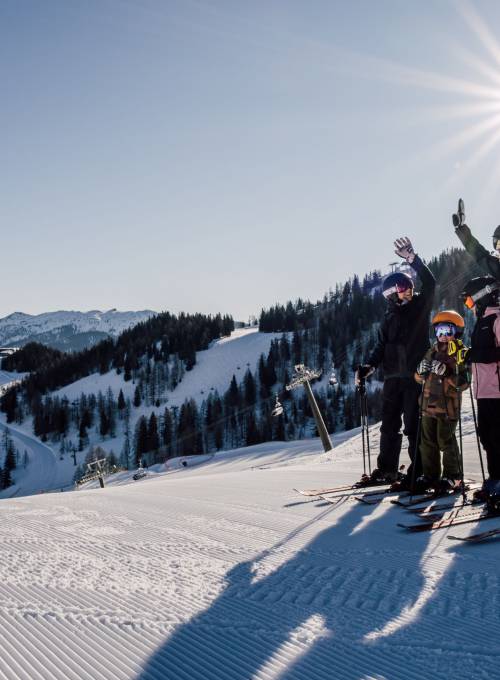 Family Ski Holidays in Austria
Planning a skiing holiday with the whole family? Then you are exactly right at Alpina! 

Our location directly on the piste of Snow Space Salzburg and directly at the gondola station allows you to choose whether to finish your family skiing day on skis or comfortably on the gondola. The hotel's location is therefore also ideal for beginners and advanced. A skiing holiday with the whole family could not be more carefree. On top of that, our guests receive special conditions on ski rental and the ski school directly in the hotel. Of course, the ski instructors are perfect in English.
Summer Family Vacation
Family experiences together every day. To cater for all the different wishes and needs of young and old, we have a lot up our sleeves - family hikes, guided e-bike tours, adventure playgrounds, action and sports experiences such as rafting, bow hunting or a visit to the largest ice cave in the world. There is simply so much to adventure! We are happy to organise your very own holiday plan - insider tips included.


And to make sure that you don't miss out on some "me time" or time with your partner, our
Kids Club
offers a varied daily programme for all ages.
Our heart beats for families.