ALPINA Alpendorf****SUP
Rooms & Suites
We're all about togetherness, no matter for how many or for how long. That's also how our rooms are designed - as unique as our guests. Cozy double rooms, comfortable suites and multi-room apartments for the whole family. And best of all, all our rooms are newly renovated and modernized. And because we know that it's about the little things, we've thought of a special extra for each room. From private spa in the room, to spacious panoramic terraces, to vacation apartments with kitchenettes, surely everyone will find the perfect vacation home... his home away from home.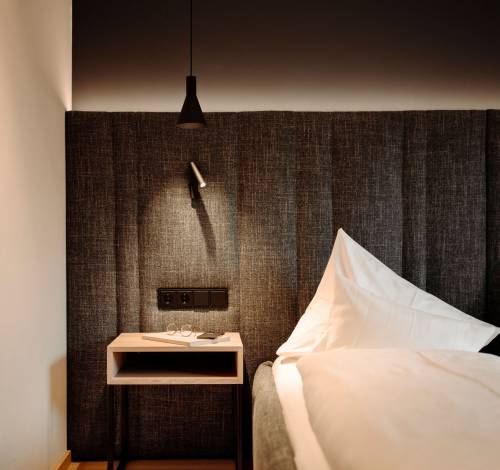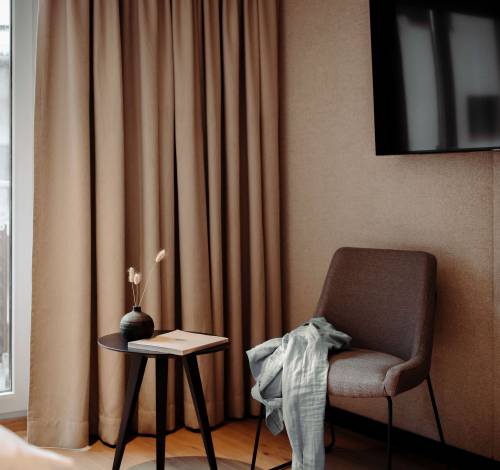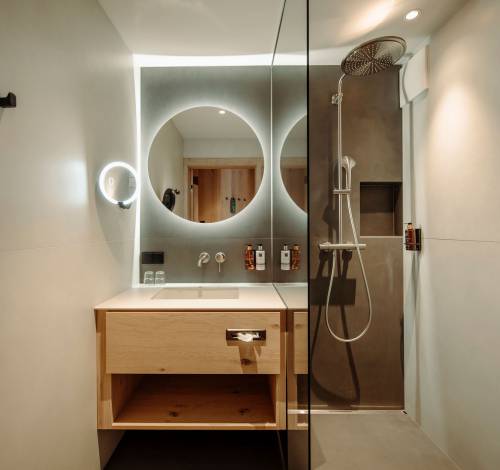 our smallest...
The classic
This small but comfy double room is optimal for price-conscious guests who like to stay cozy or travel alone. A small writing desk makes it perfect for business travelers. It is about 22 m² in size, partial view to the inner courtyard, without balcony.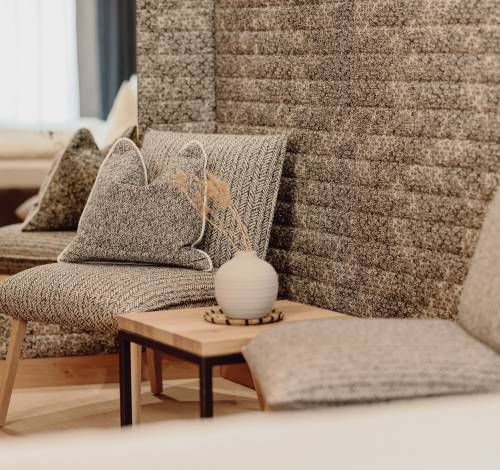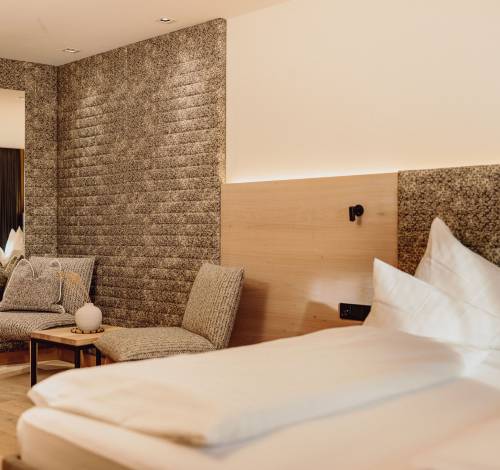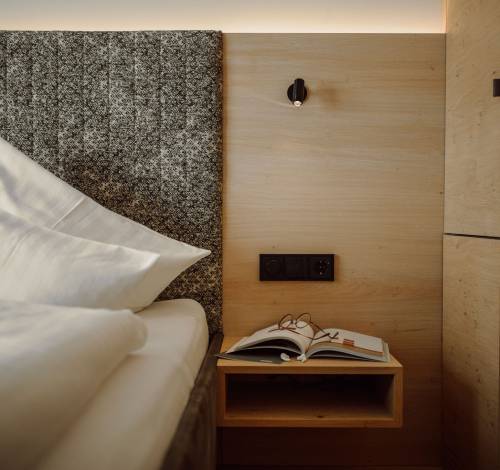 Every room with a view…
Deluxe Room
Offering living comfort on 30m² our comfort rooms are loved by couples and families with a small child. The modern & cozy furnishings of the room and the magnificent view from the balcony offers you a great place to enjoy your holiday to the fullest.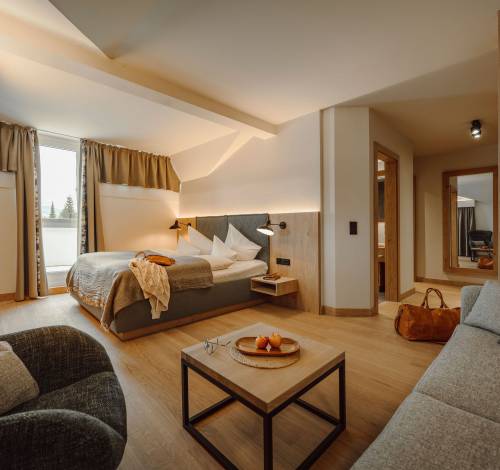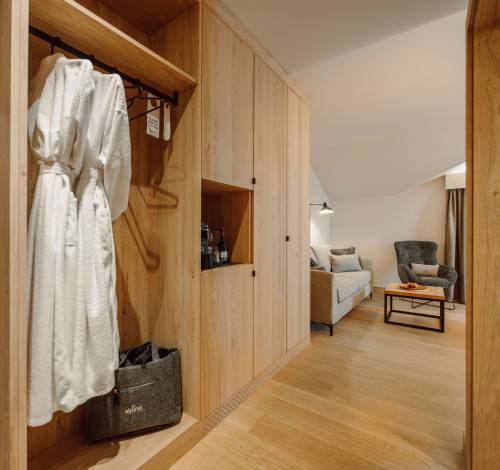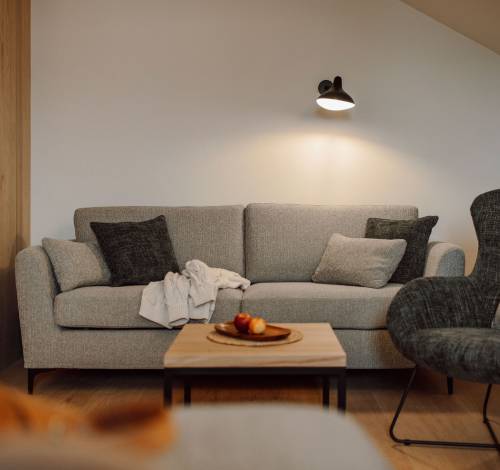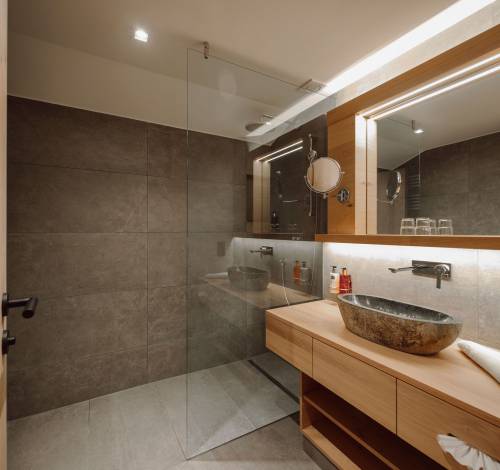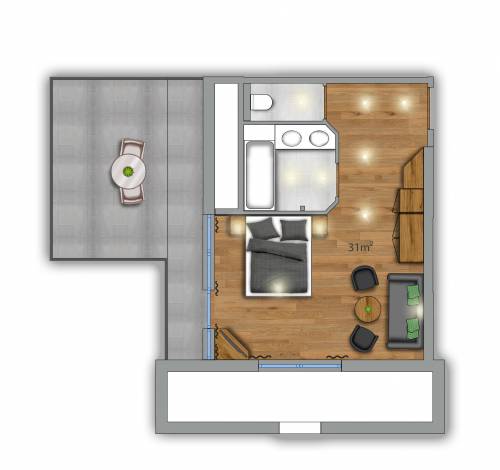 a terrace for dreamers …
Rooftop deluxe room
This spacious room features a sizeable terrace (approx. 6m²) with a view of the Hochkönig Mountain. Similar in amenities to the Deluxe Rooms, the Rooftop Deluxe Room also has a pull-out couch which can accommodate two children together with their parents. We recommend the Rooftop Deluxe Room for dreamers who enjoy sunbathing in privacy.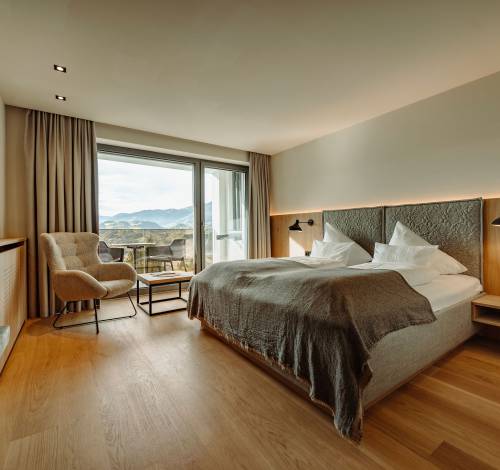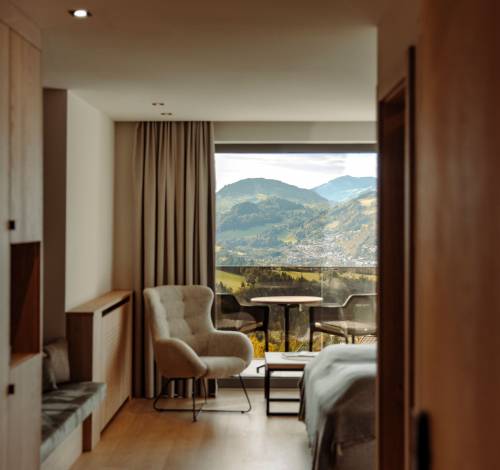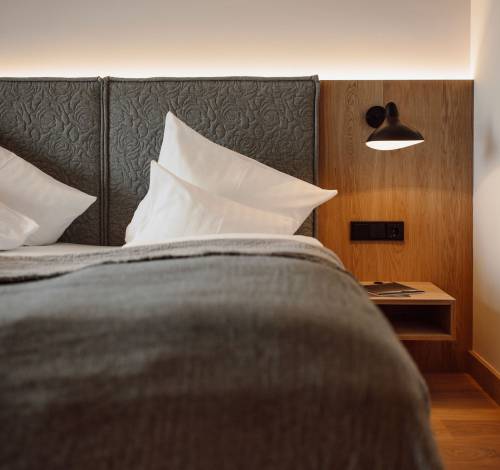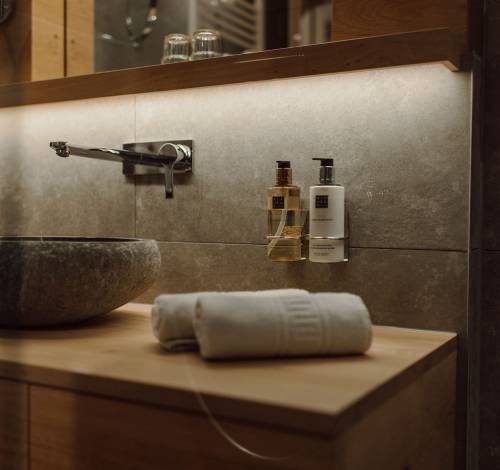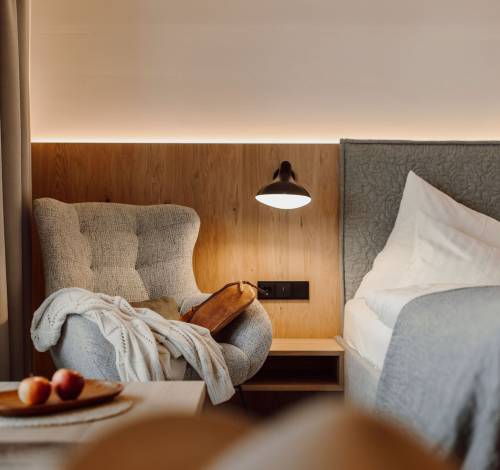 our most beautiful perspective...
Top Panorama Deluxe Room
Cosy double room (30 m²) with sunny balcony, whose dreamlike view is unforgettable! A double bed, sitting area and the possibility for an baby bed make the living comfort of this room complete. We recommend this room for all those who love the bright morning light.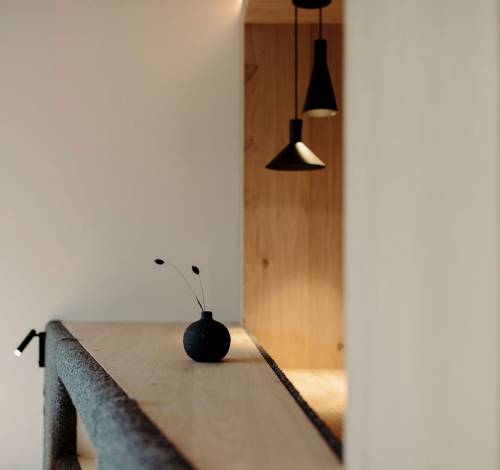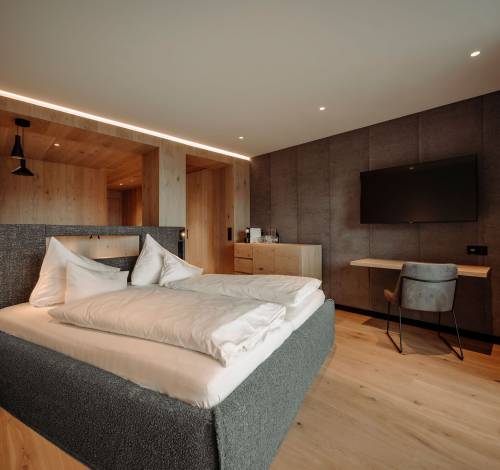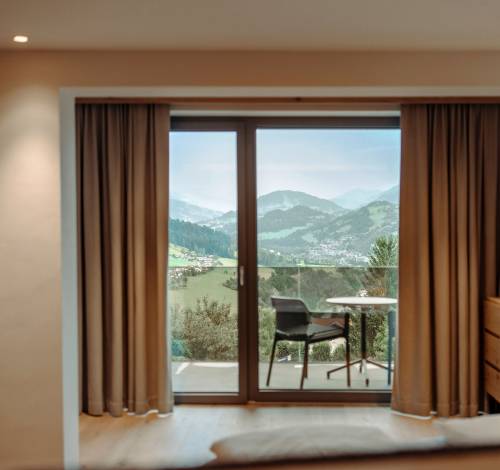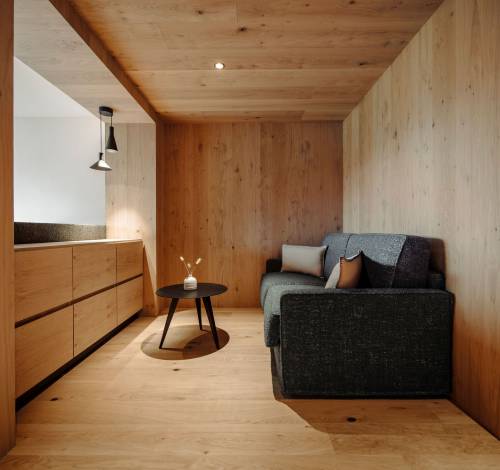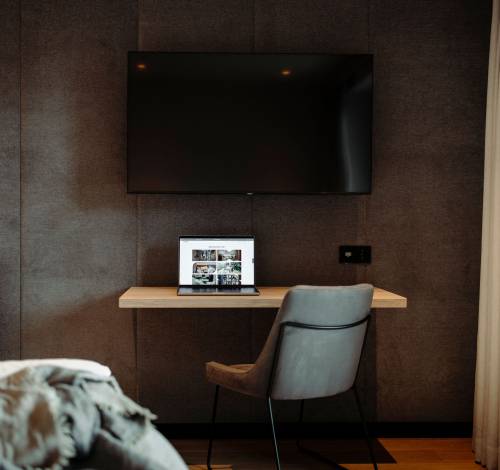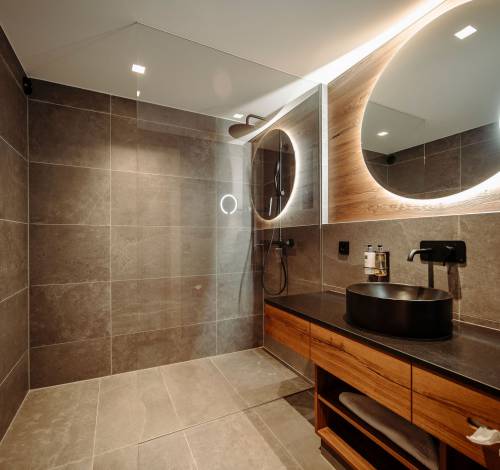 Space, space and more space...
Panorama Superior Room
This airy 40m² room features a generous balcony and incomparable view. Furnished with a comfortable couch, the room is perfect for those looking to take it easy when the day winds down. The couch also serves as a spacious bed for 2 more guests making the room suitable for 2-4 people. // New from summer 2023 // Panoramic view at its best thanks to the new panoramic windows. Pleasant oak wood and restrained colors give the room its stylish yet cozy character.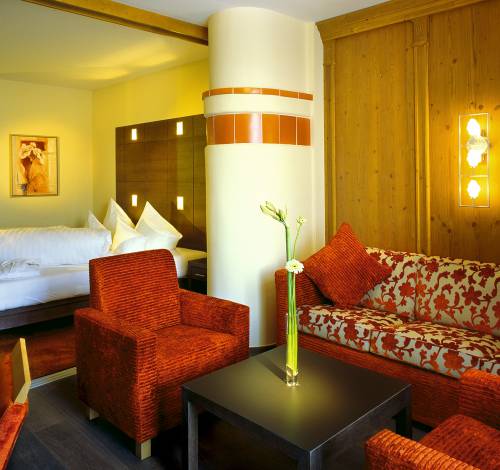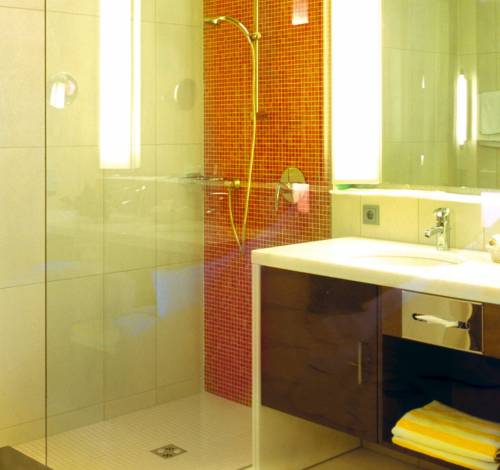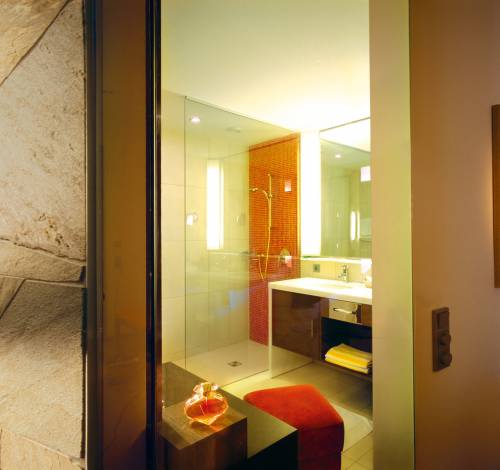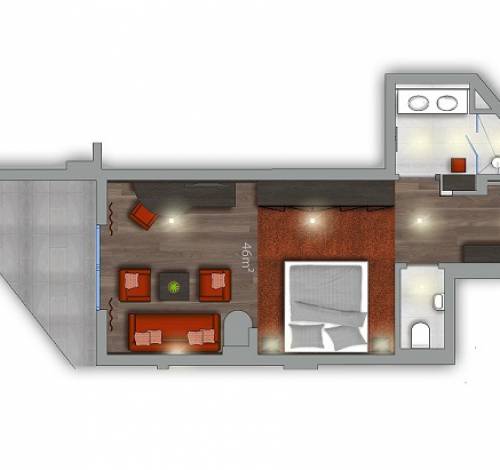 Elegant and contemporary...
Design Superior Room
This stylish 40m² room features a mobile wooden partitioning wall that can be used to separate the living and sleeping areas. Relax on the extra-long double bed (210cm) or the comfortable couch that can be turned into a second double bed on request. A balcony with partly restricted view to the Hochkönig and a coffee machine are also included.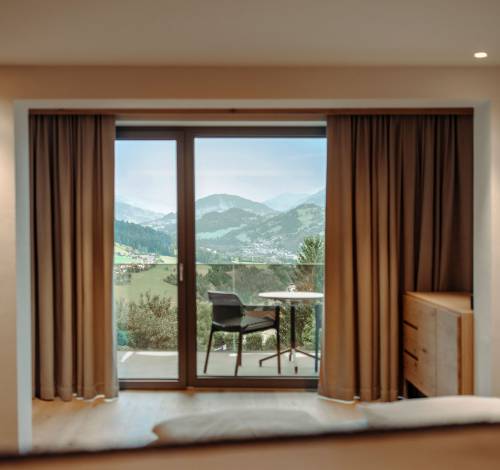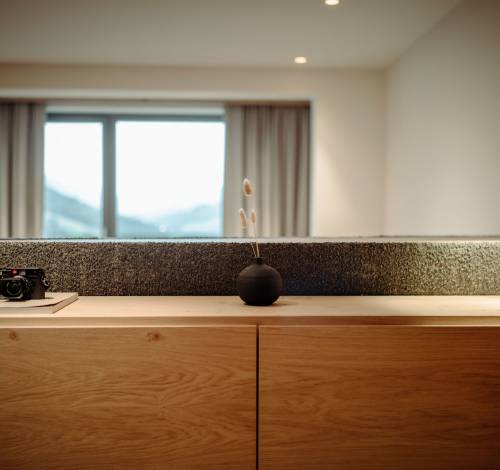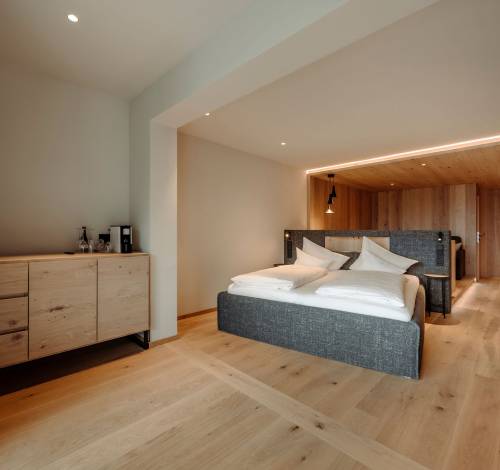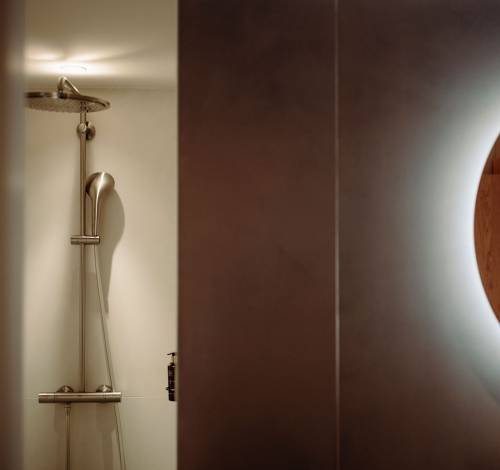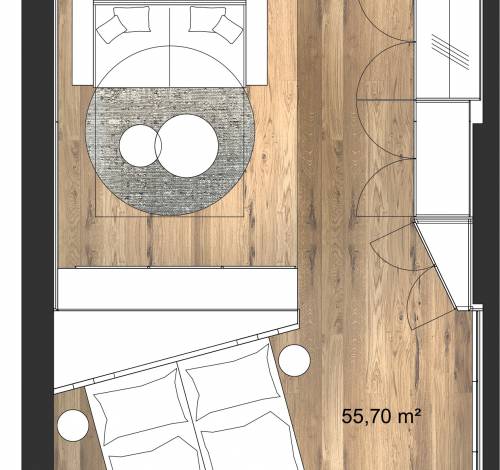 Panoramic view
Executive Room Panorama
Alpina's most spacious double room, which offers our guests over 50 m² of space. The balcony, designed to optimize the view over the valley. The couch can be pulled out to make a second double bed, offering cozy living comfort for up to 4 people. // New from summer 2023 // With new panoramic windows and loggia style balconies, you will love this room even more. Pleasant oak wood and restrained colors give the room its stylish yet cozy character.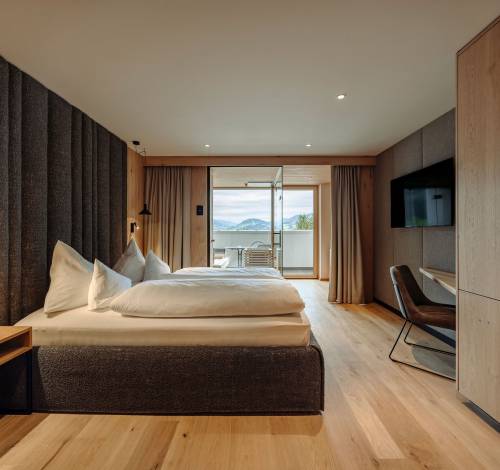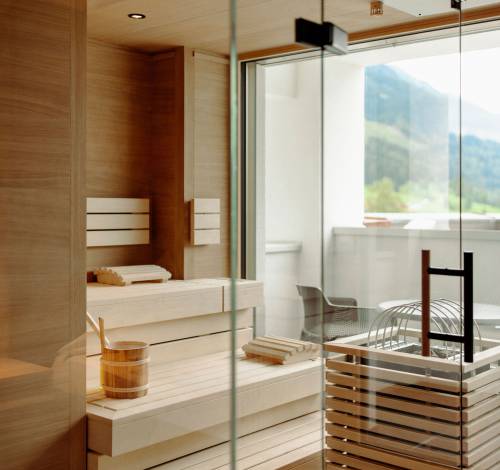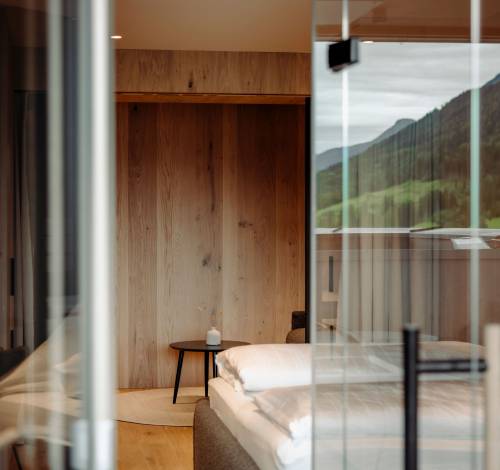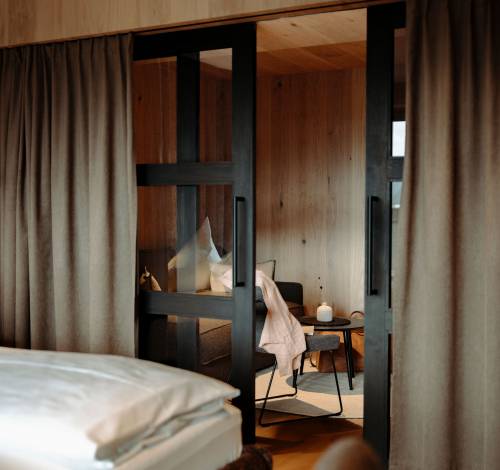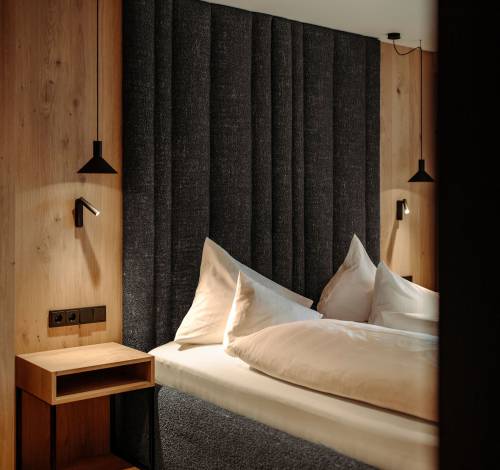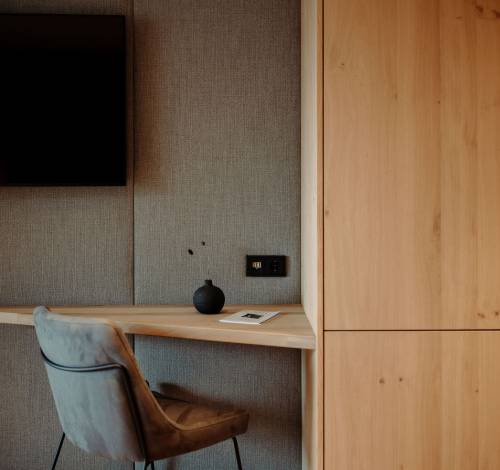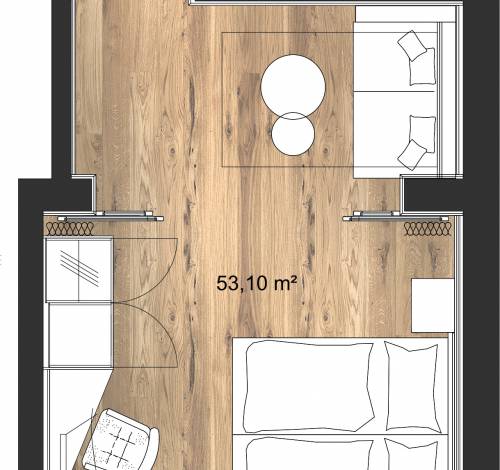 Panoramic view + spa
Executive Room Plus
Spacious double room with private sauna. The luxurious size of 50m² is optimally used and is complemented by a private sauna for relaxing. A balcony in front and yet sheltered underlines the private character of this room. The couch that can be pulled out into a 2nd double bed offers cosy living comfort for 2-4 people.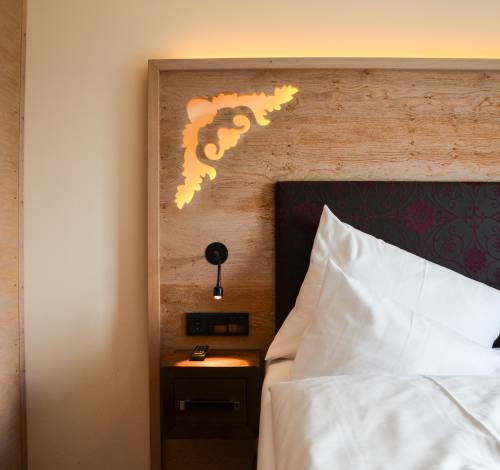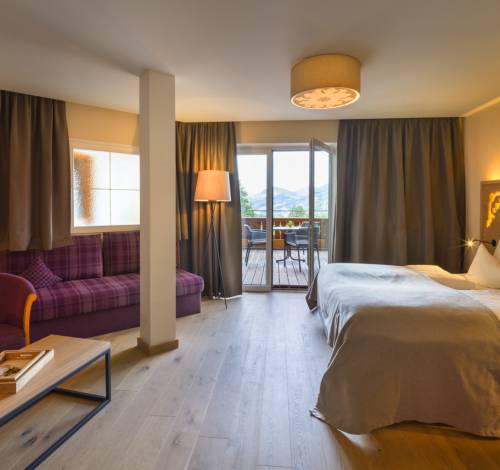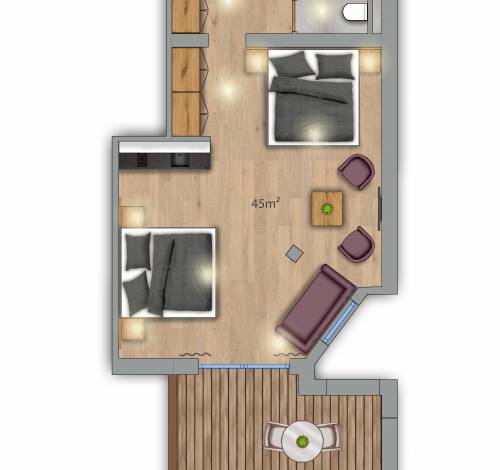 Space, space and more space...
Panorama Superior Room Family
Alpina's biggest double room for families. The extended balcony emphasizes the exposed position of this room which makes it so popular with our guests. The distant view is complemented by a practical layout with 2 double beds. A couch provides additional cozy living comfort for up to 4 people, so the room is used in the best possible way and still provides a lot of space!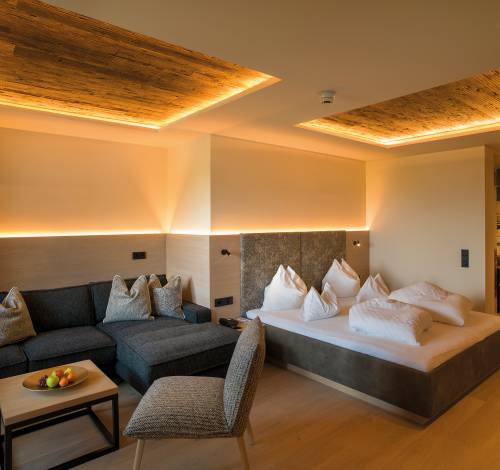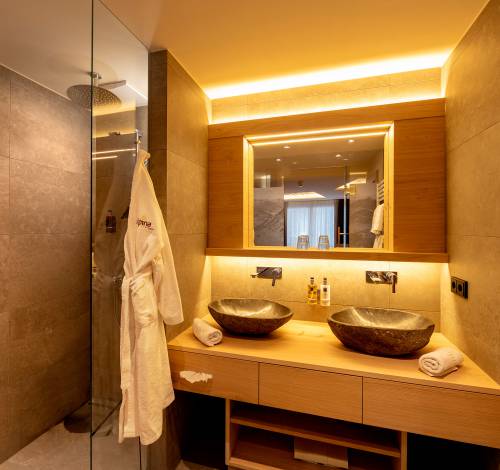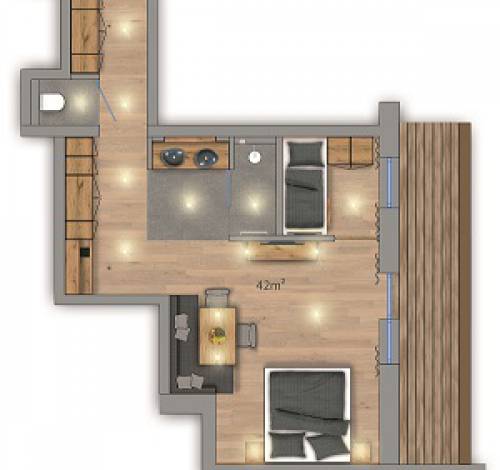 Two rooms and freedom to move...
Family Room
The 40 m² are divided into two separate bedrooms, some with bunk beds. A cozy balcony completes the space and makes this room for 4 persons a family favourite. Take advantage of our affordable alternative for families, new renovated.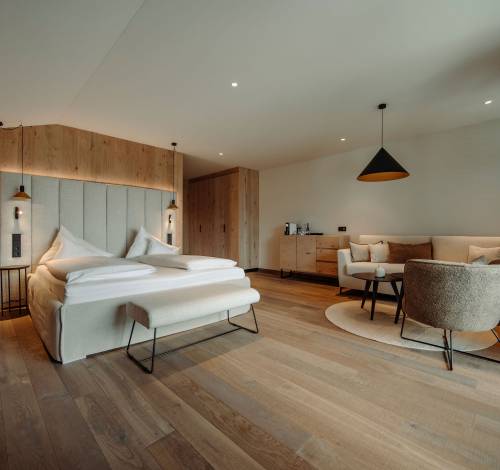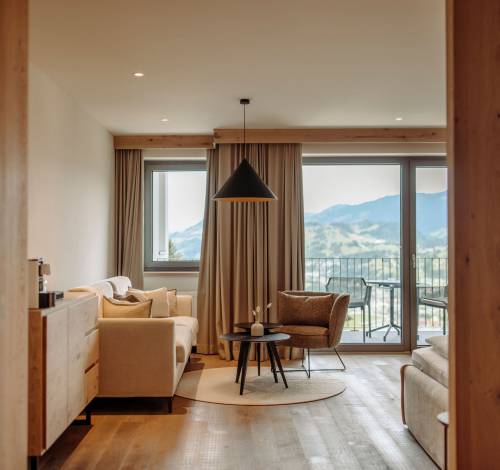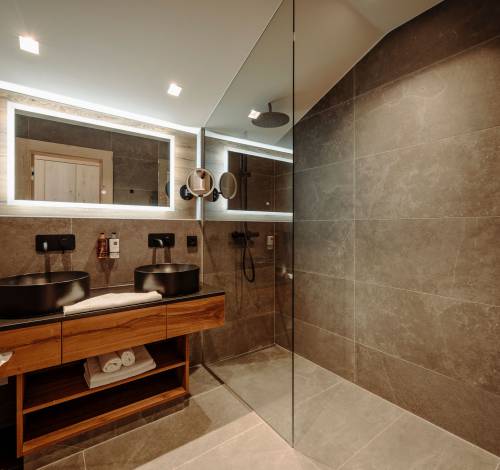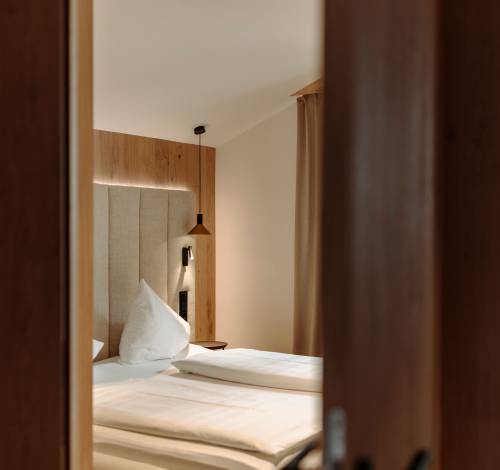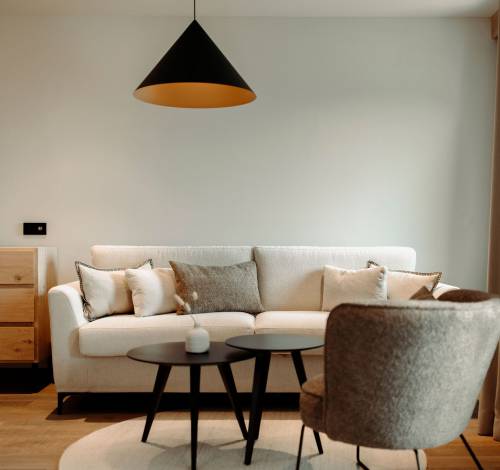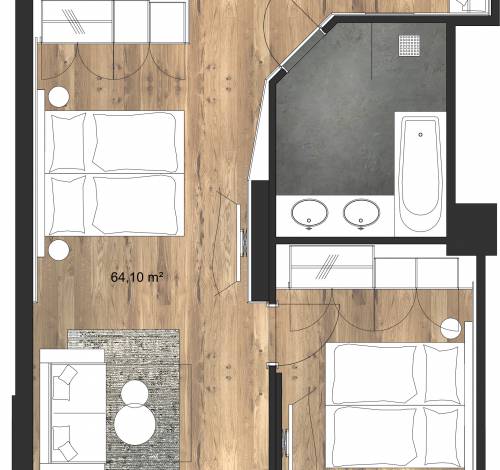 feel at home...
Panorama Hochkönig Suite
With its comfortable size this family suite guarantees well-feel space for 4 persons. The suite offers a combined sleeping- & living-room with a sofa-bed for a 5th & 6th person, sitting area and a balcony with an unforgettable panoramic view as well as the additional, separate sleeping room with double bed.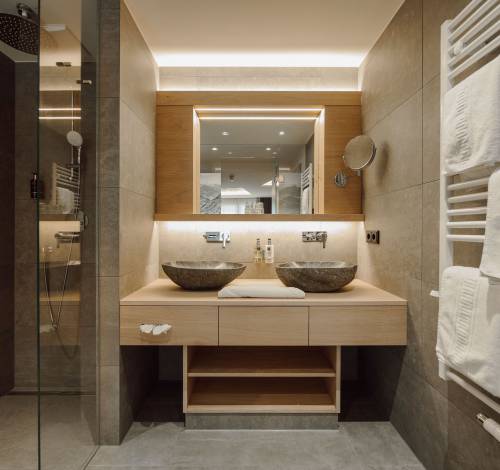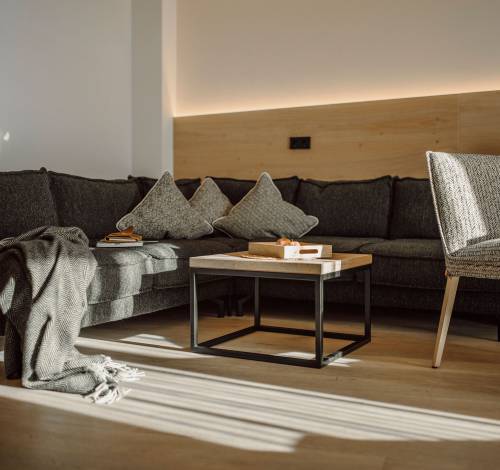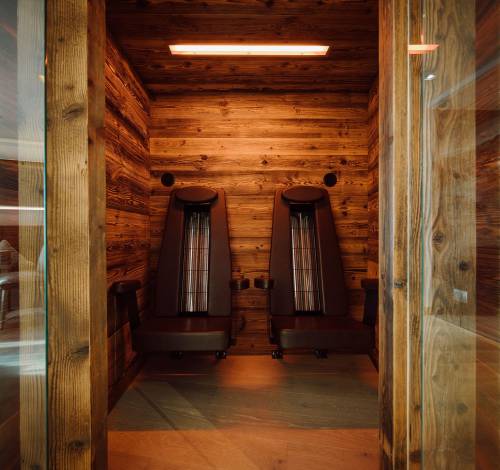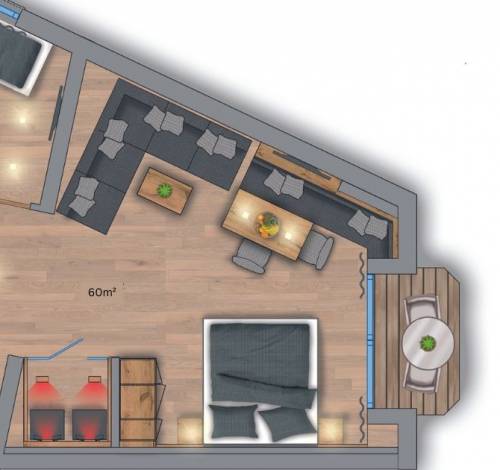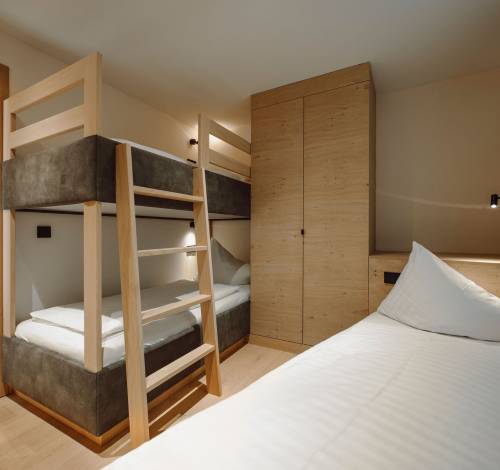 with its own infrared cabin...
Private Hochkönig Suite
Our exclusive Hochkönig suite welcomes you with its own infrared cabin, which is located in the parents' spacious living-bedroom. A small children's room with a double bunk bed and a single bed offers a cosy place for up to 3 children. From the sheltered balcony you have a, partly restricted, view of the gondola station and the Heukareck.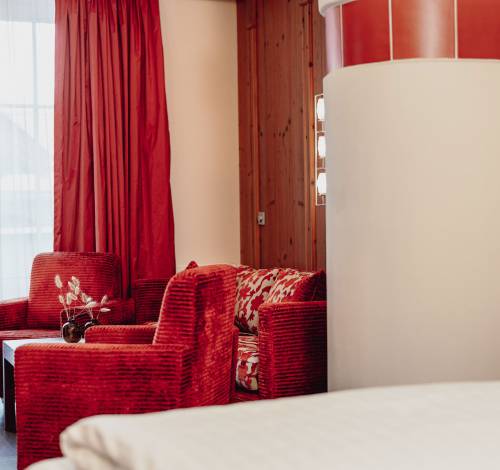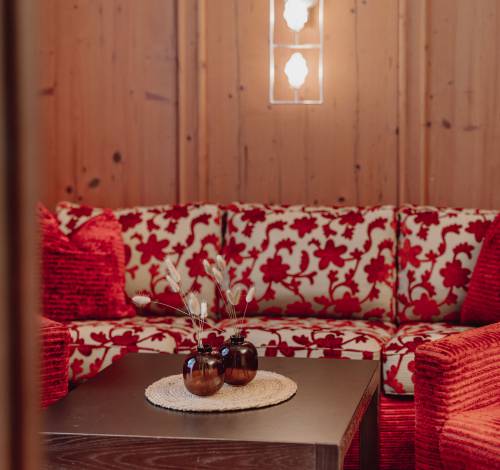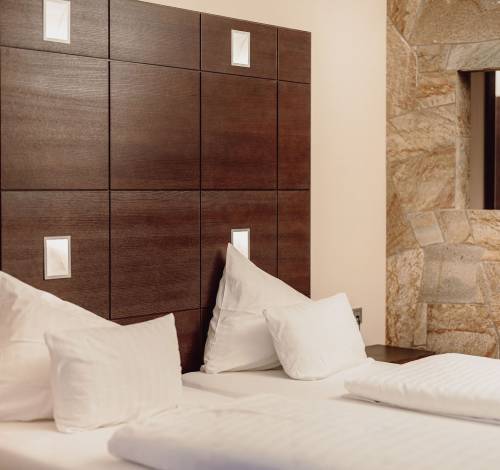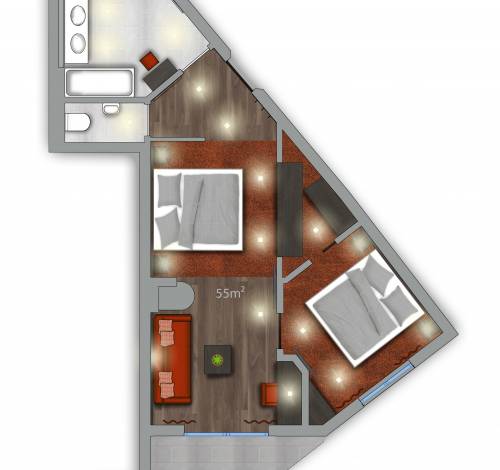 space meets contemporary design ...
Design Hochkönig Suite
Modern furnishings and yet very cozy – this 60m² suite for 3 to 5 guests is the perfect combination! It features a spacious bathroom with walk-in shower and bathtub, an exclusive make-up corner, a separate double room and a comfortable living/bedroom with an overlong 210cm double bed and sofabed. We also invite you to enjoy the balcony on warm summer nights.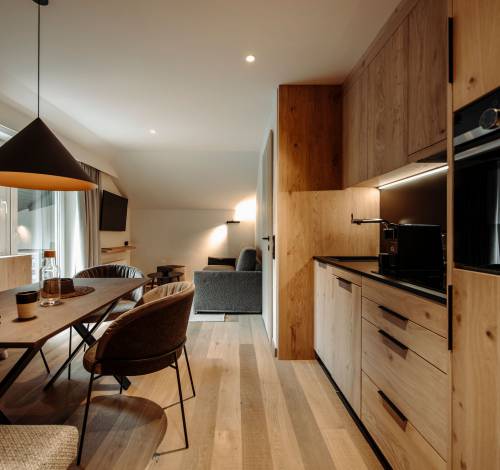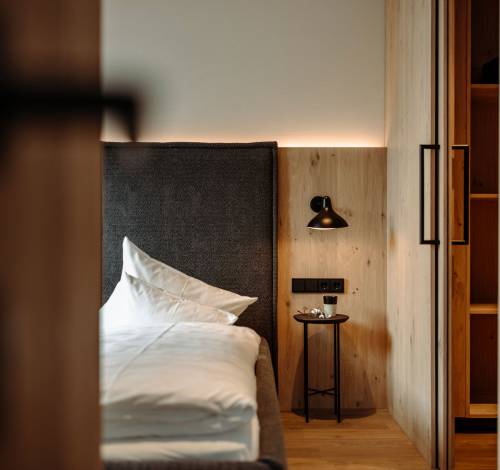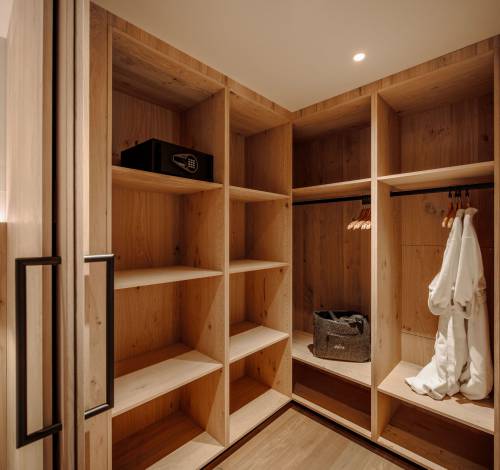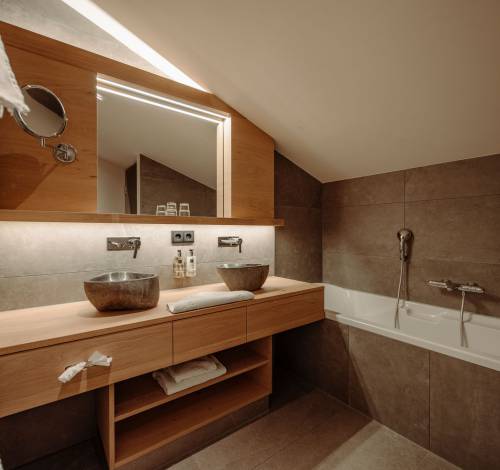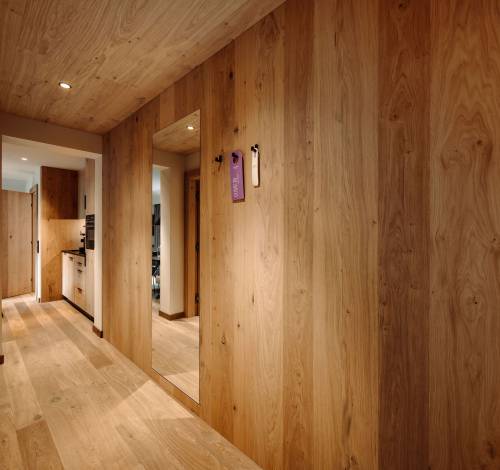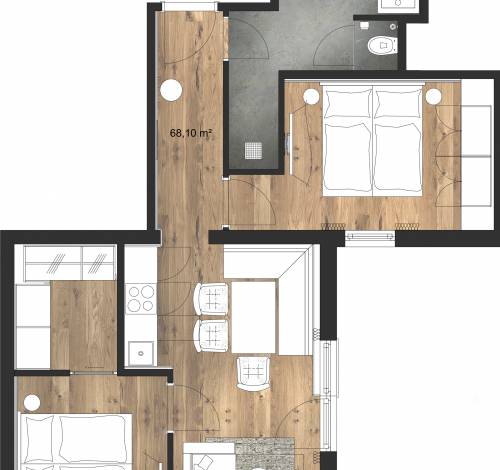 Freedom inside and out...
Panorama Tauern Suite
Offering the same amenities as the Hochkönig Suite , the Panorama Tauern Suite also features a second separate bedroom. The living room is perfect for taking it easy or for 2 additional guests. An exclusive panoramic roof terrace or sunny balcony make a nice extension to the 65m² living space.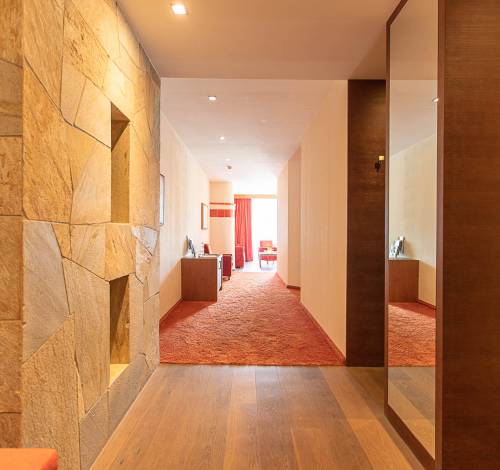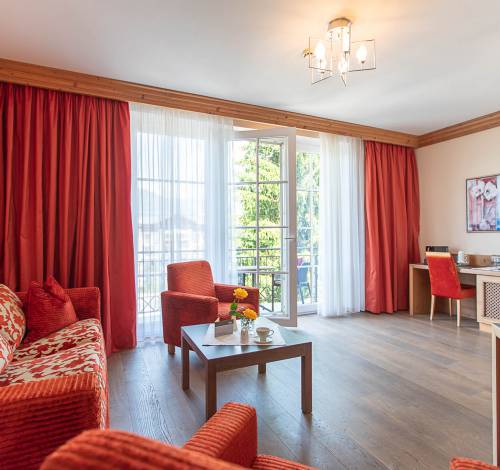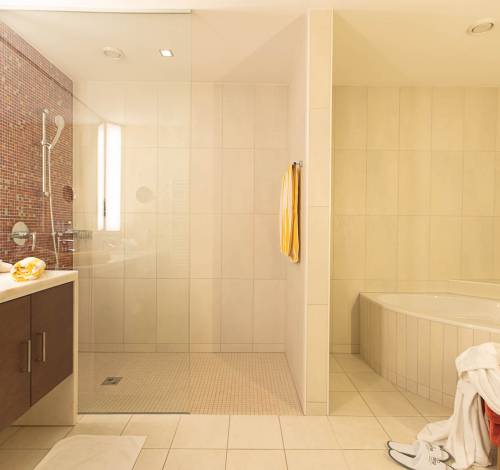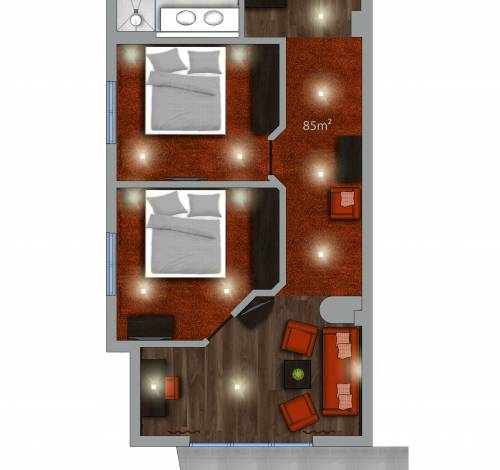 Chic and spacious...
Design Tauern Suite
Our luxurious 75m² Design Tauern Suite offers all the comfort of the Design Hochkönig Suite with a second separate bedroom (bed length 2,10m). Accommodating up to 6 people, the suite also features a balcony or terrace with a beautiful view of the Hochkönig Mountain.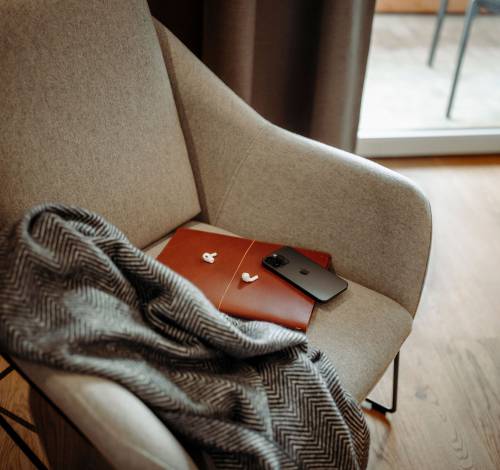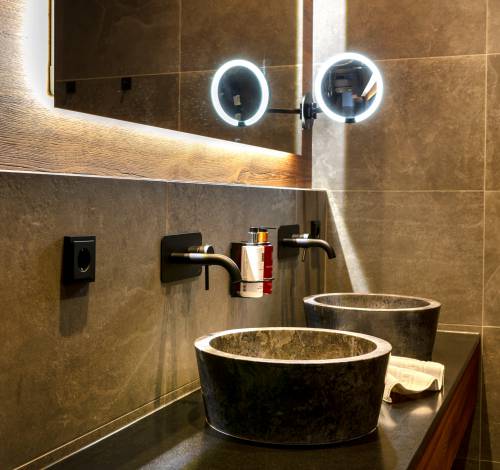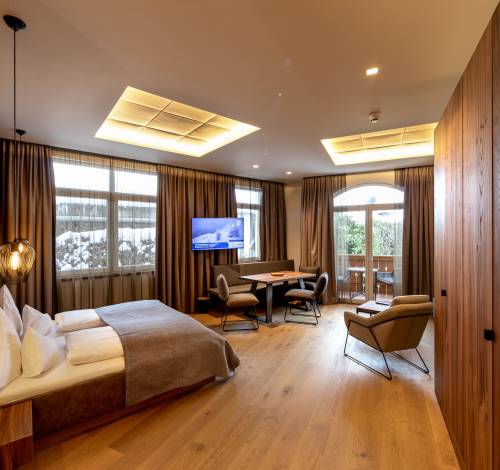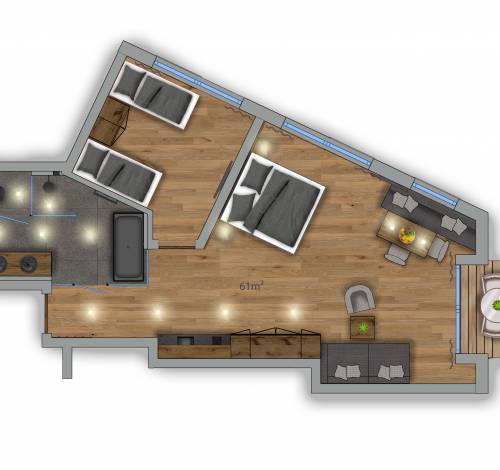 Feel at home...
Heukareck Suite
This spacious suite on 60m² guarantees feel-good space for 4-5 persons. A large double room with kitchenette, couch, desk and a balcony with a view of the Heukareck as well as another, separate room with bunk bed and single bed offer comfortable vacation feeling for the whole family. In addition, a spacious bathroom with rain shower and bathtub. The modern furnishings in alpine style immediately invite you to surely feel at home here!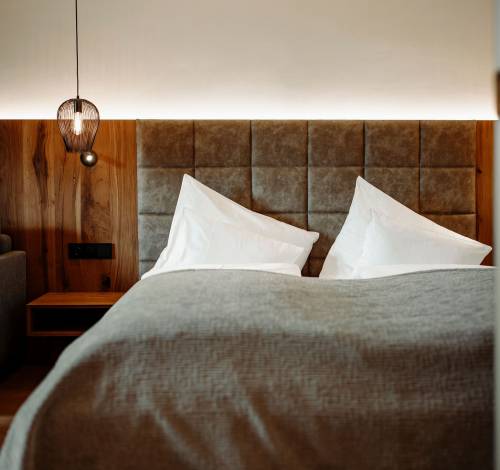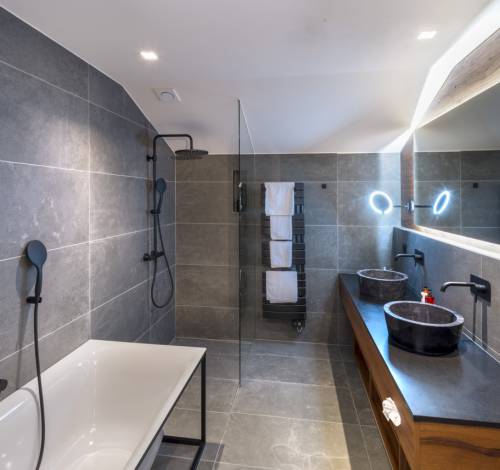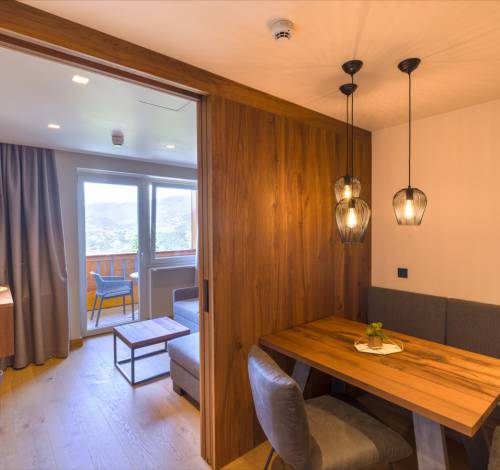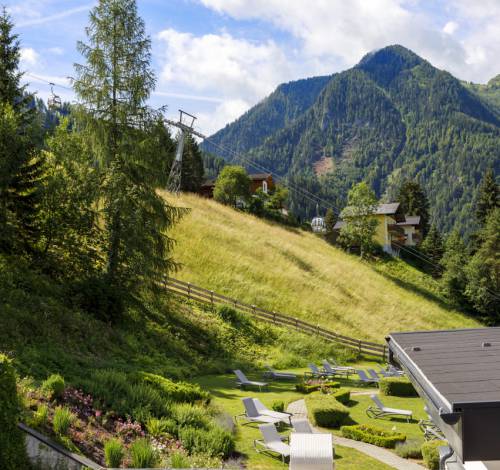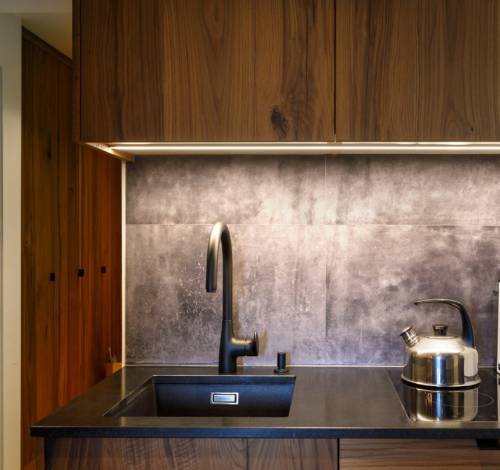 All around view...
Panoramaloft
Due to its 2 balconies, this modern loft (45m²) is our special gem! A spacious bedroom with a nice balcony as well as a living room with a second balcony with a magnificent panoramic view of the valley, a couch and a small kitchen offer plenty of space. If desired, the individual living areas of the room can be separated by sliding doors. Ideal for 2 adults who like to have enough space or adults with children.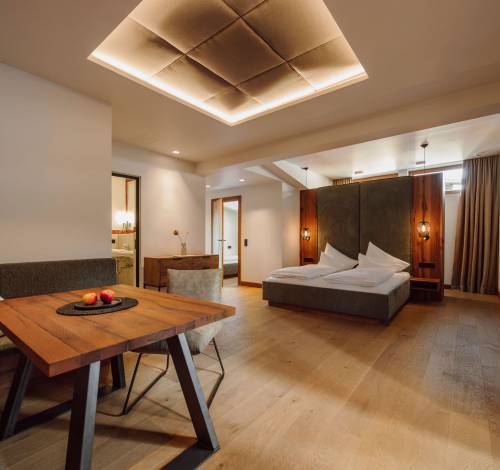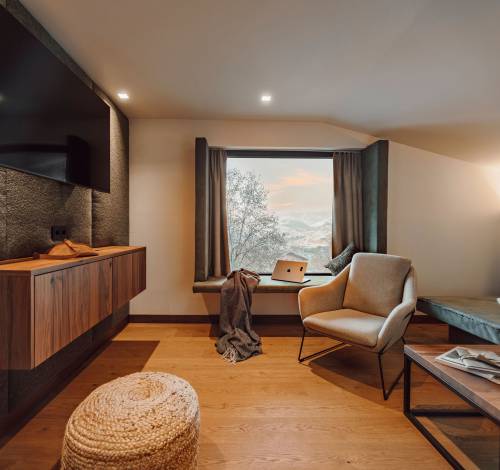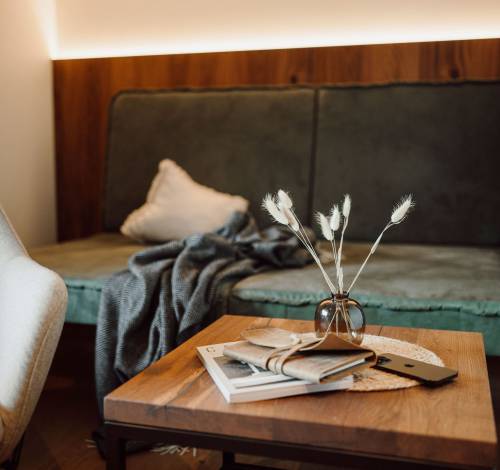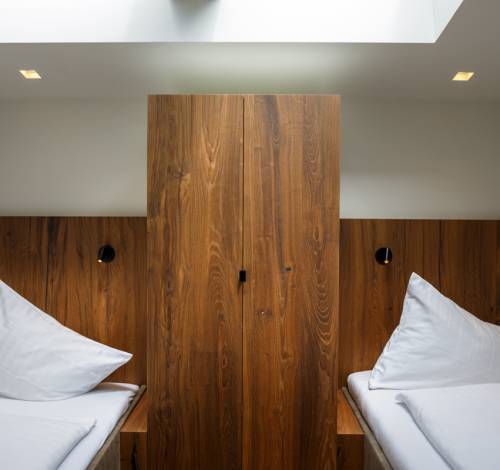 A lot of sunlight...
Tauernloft
This newly renovated suite perfectly underlines our motto "feels like home"! The spacious living room and bedroom with a small balcony overlooking the courtyard is let through an open corridor into the lounge area with a magnificent panoramic window. The additional bedroom for the children is separated so that everyone has enough space. The bathroom is spacious and offers a shower as well as a bathtub.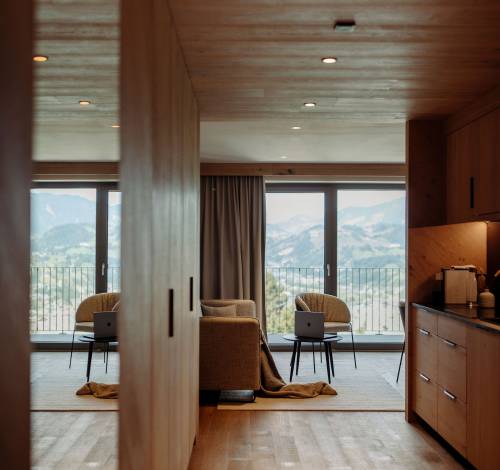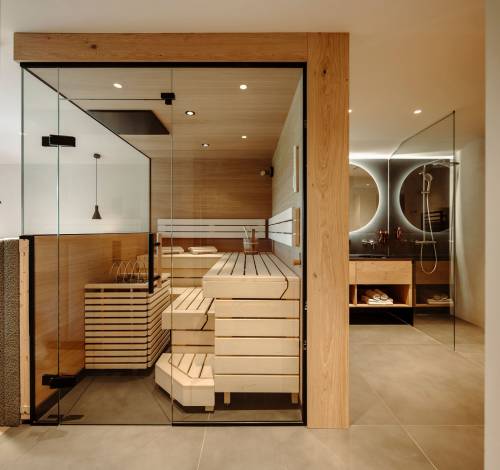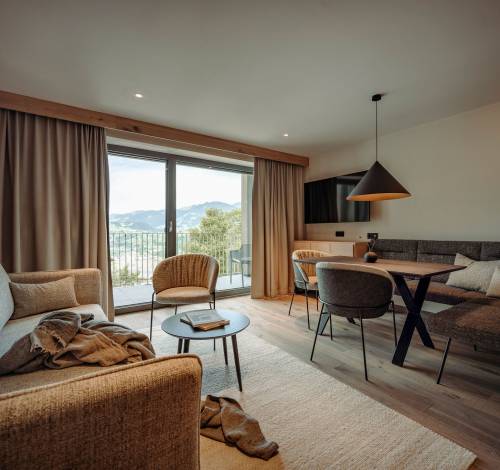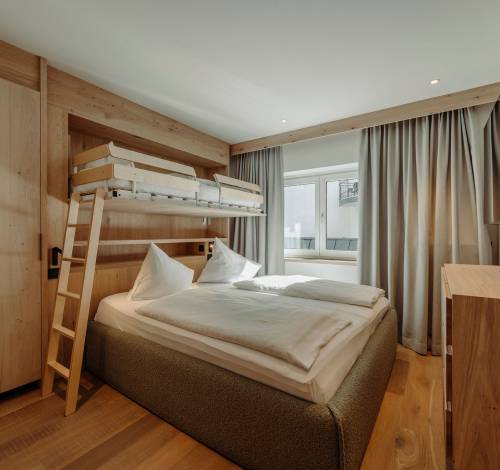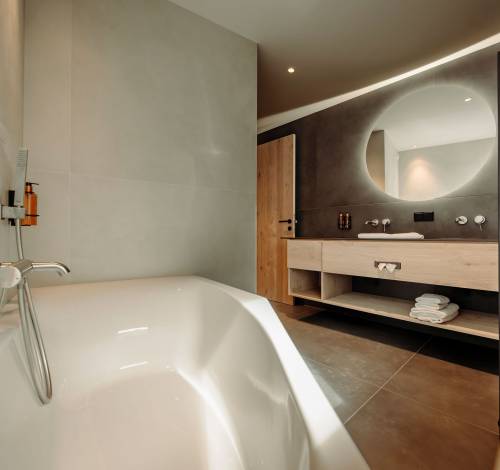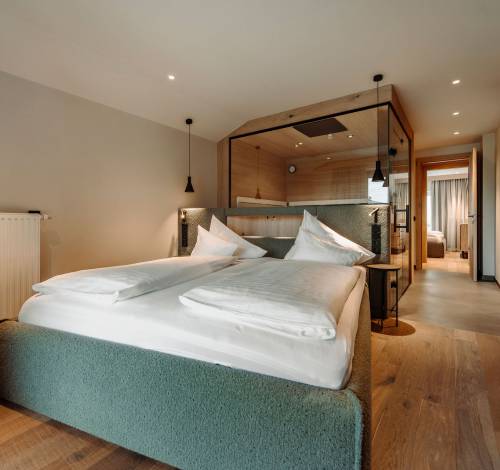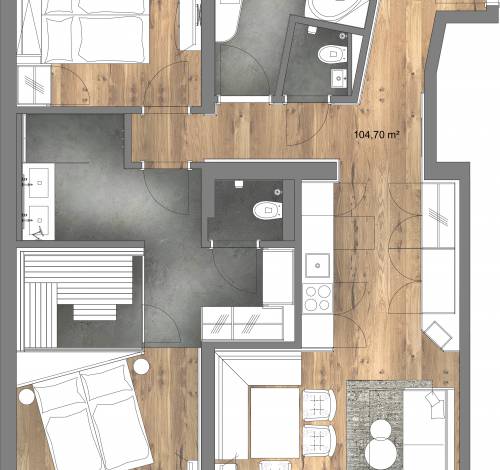 Our biggest...
Family Suite Panorama
Our new suite - for families, friends or all those who are looking for something special. One bedroom with panoramic window, walk-in closet and bathroom with rain shower plus a sauna with mountain view for private spa time in the room. The second bedroom offers a double bed and a single bed. Next to it another bathroom with bathtub and a second separate toilet make stress impossible. The open living area with seating, a large dining table & a kitchen offers space to spent time together. Last but not least - a spacious balcony with distant views over the mountains. // new from summer 2023 //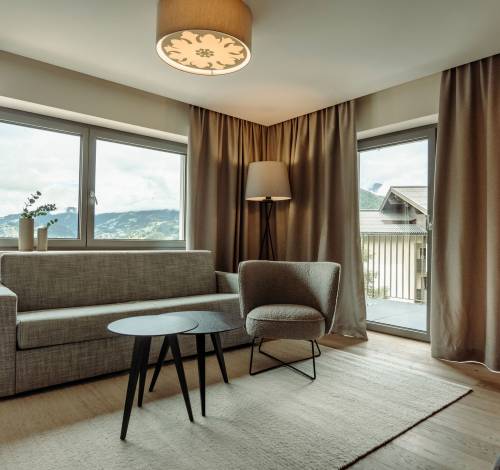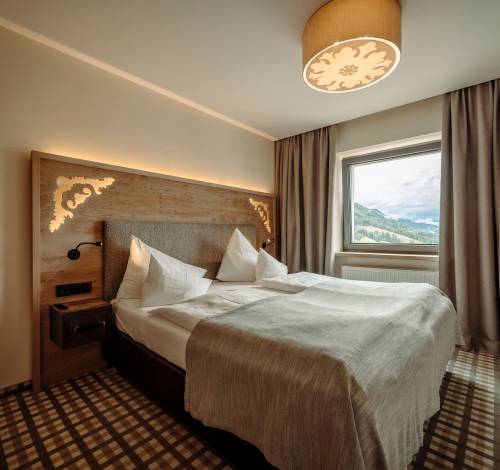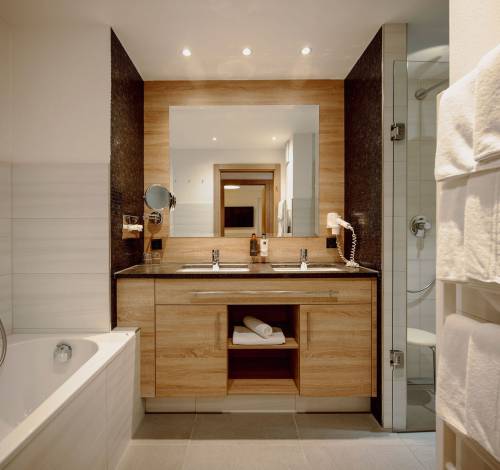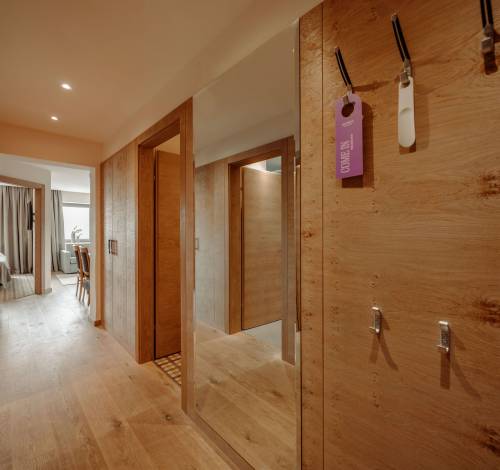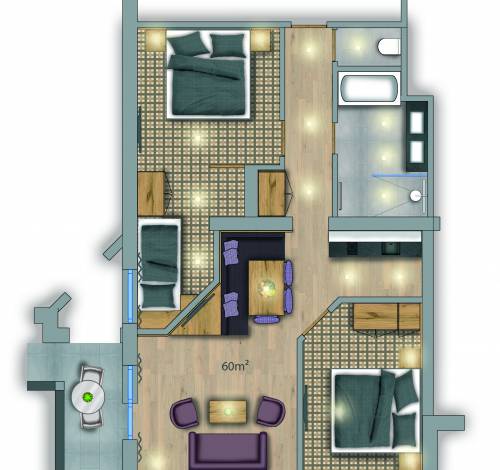 Traditional alpine style and splendor...
Alpinasuite
This tastefully furnished family suite in alpine style comes with a fantastic view and provides accommodation for up to 5 people on over 65 m². It is divided into a common living room with kitchenette, sitting and couch corner, as well as 2 bedrooms; one with a double bed and one with three beds. From the inviting balcony you have an indescribable view of the valley. The Alpina Suite is our personal family tip for 4 and more!