ALPINA Alpendorf ****SUP
Family-Highlights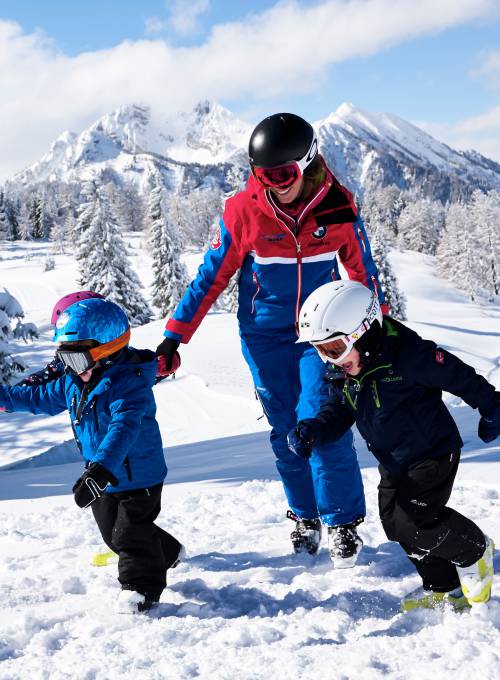 Advantages for families – in Winter
BIG emphasis on families means BIG family advantages in winter!
Ski school and ski rental are in-house. Not only is this convenient, but Alpina guests are granted special conditions for lessons and equipment.


Our special family plus in winter: The ski school will organize pick-up and drop-off directly from the hotel. Save yourself some of the usual ski-trip morning hassle and let an instructor pick your child up from the hotel and deliver him/her back to the Kid's Wonderland after a full day of skiing. Our friendly supervisors will be waiting with a refreshing afternoon snack and some more fun activities.
Ski in or take the gondola – the Alpina's location is ideal for beginners because it lets you decide how you want to finish the day.


Kid's rent free – parents who rent ski equipment receive rentals for their children (12 years and under) free of charge!
Advantages for families in Summer
In addition to the planned weekly activities for the whole family, with picnic hikes, farm outings and leisurely cycling tours, the surrounding area also offers many opportunities for activities, sports and excursions. Right next to the hotel is access to Ghost Mountain, a spectacular adventure playground at an altitude of 1800 m, a large playground right next to the gondola station and an archery range.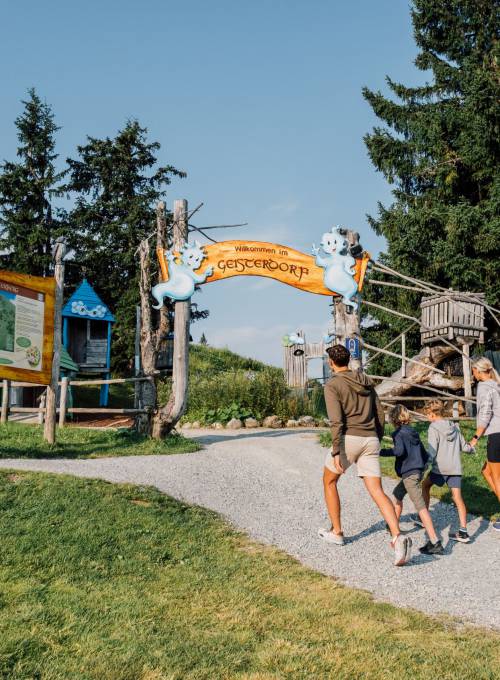 Ghost mountain
An adventure park for the whole family on the Gernkogel (1,767 m above sea level)! Spuki and Gspensti will lead the little ones through super spooky worlds with amazing scenery and grown-ups will experience nature as never before.
Ghost Mountain offers among other things: well-maintained hiking trails with a ghostly touch all around the Gernkogel, panorama towers, climbing mountains, giant slides, Krampus caves, air swings, shooting galleries, water games, mill wheels, waterfalls, ....
To reach Ghost Mountain, take the Alpendorf gondola to the summit station and ride the ghost train from there.
Operating times for the gondola are available at reception or in the current timetable.
With Alpina's guest card you receive a discount on tickets for Ghost Mountain as well as for many other attractions in the surrounding area.
Picknic hikes
This fun picnic hike is scheduled once a week and great fun for the whole family. After a short trek, it will be time for a break to grill sausages and take in the mountain scenery.
Guided hikes
Take a walk with Hotelier Marianne Schwarz, our resident hiking expert. Once a week she will share her knowledge on a special guided hike, where you will learn about the local terrain and the special character of the landscape around us.
Family excursions
Experience country life – alpine style! Join us on one of the many planned excursions into the surrounding country-side where kids can get close to mountain animals and plants and sometimes even lend a helping hand!
Riding
Once a week we organize an excursion to the riding stables in the neighbouring village of St. Veit, where our little guests can experience "heaven on earth".
Swimming lessons for kids
The Alpina offers swimming lessons for little water rats in a relaxed atmosphere. Our trained instructors adjust the lessons to the individual abilities of your child. Please contact us if you have questions or would like to make a reservation.
Prices (45 minutes/lesson):
1 child: € 45
2 children: € 35 per child
Our heart beats for families.
All families. Small, big, young & old.